Who needs bells and whistles when the Echelon EX-8s Connect Bike has pulsating LED lights in sync with workout metrics? Rolling in at the…
Echelon EX-8s Connect Bike Specs
| | |
| --- | --- |
| Rating | 8.7 |
| Type | Indoor |
| Console display | 24″ curved HD touchscreen |
| Compact storage | yes |
| Resistance | 32 |
| Seat type | adjustable |
| Programs | Echelon Fit App |
| Flywheel | magnetic |
| Weight capacity | 300 lbs |
| Dimensions | 59″ L x 23″ W x 65″ H |
Who needs bells and whistles when the Echelon EX-8s Connect Bike has pulsating LED lights in sync with workout metrics? Rolling in at the top of the 2022 lineup comes the newest edition from a long-standing fan favorite brand. Priced at $2,299.99 and equipped with a unique brand-specific 24-inch curved HD Touchscreen which can flip 180 degrees, this bike also features dual-facing speakers for immersive workouts. The bike is built to work with the Echelon Fit app, and customers who subscribe to a one-year membership can get a complimentary Apple iPad along with the purchase.
Measuring 59″ x 23″ x 65″ with a machine weight of 124 pounds, the bike can support up to 300 pounds in user weight. A substantive bike for sure, the most eye-catching element of the bike might be the integrated LED lights within the flywheel which sync with workout metrics such as heart rate, as well as various routines. These include an energizing pulse and a calming glow. Utilizing Silent Magnetic Resistance (SRM), the bike features 32 levels of resistance by way of a motorized e-Drive system and a Bluetooth Resistance Controller operated from the handlebars. Other features include water bottle holders and dual-sided pedals with toe cages on one side and cleat clips on the other.
---
The Great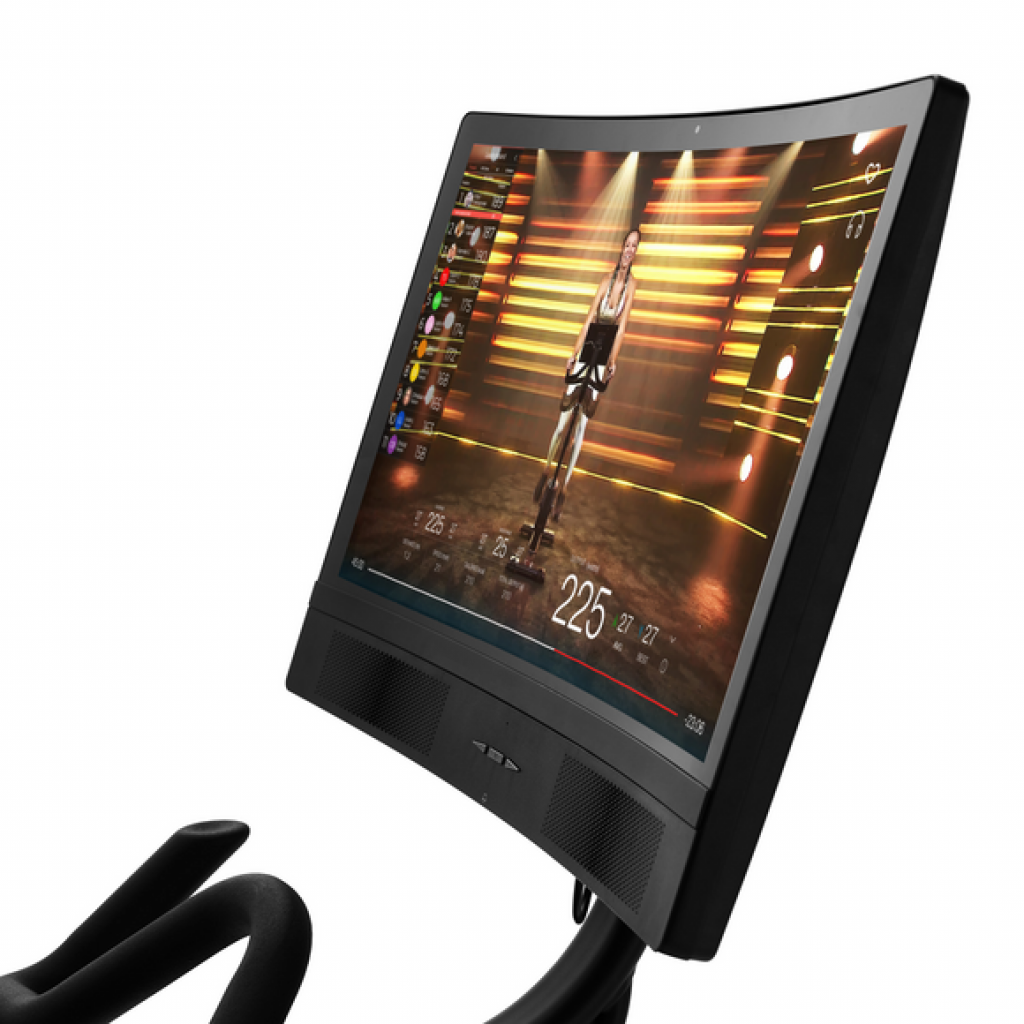 Personal Training Experience: At $34.99 per month, the Echelon Fit App users get more than 40-plus daily live classes, 3,000 on-demand workouts, 1 million song and artist choices, and over 60 different instructors. Choose from live or on-demand classes to get you motivated and pump up the energy during your ride. Riders can also add in programs like yoga, Pilates, and meditation for a fully-rounded fitness experience. The app also allows you to monitor all your performance stats (calories burned, speed, distance, etc.).
Pulsating Flywheel: Integrated LED lights illuminate the workout in conjunct with workouts.
Great Connectivity: Featuring Bluetooth 5.0 Connectivity, the machine has up to 1.8 GHz of processing speed and 4 GB of RAM.
Immersive Sound: Dual-facing speakers 5 watts a piece, and the bike also features two 3.5mm audio jacks.
Watch Yourself: The bike includes an 8mp camera with privacy cover.
Multi-position Handlebars: Adjust the handlebars to fit any rider. Diversify your training by changing the handlebar position to allow you to stand up or lean forward.
Silent Magnetic Resistance: With 32 levels of magnetic resistance, the bike is easily adjustable with the turn of a knob.
Sturdy, Durable Frame: The solid-steel frame makes the bike sturdy and perfect for heavy use.
Compact Size: An important factor when choosing an in-home exercise bike (or any fitness equipment) is the size. This bike has a relatively small footprint that fits easily into most spaces.
---
The Not-So-Great
Lack of Programs: This bike does not include any pre-programmed workouts or a console. Without a subscription to the Echelon Fit App, the pulsating flywheel is a no-go and the screen isn't compatible with other programs.
Warranty: The warranty that comes with the Echelon GT+ Connect Bike is only for one year, which is on the weak side. However, there is an option to buy an extended warranty.
---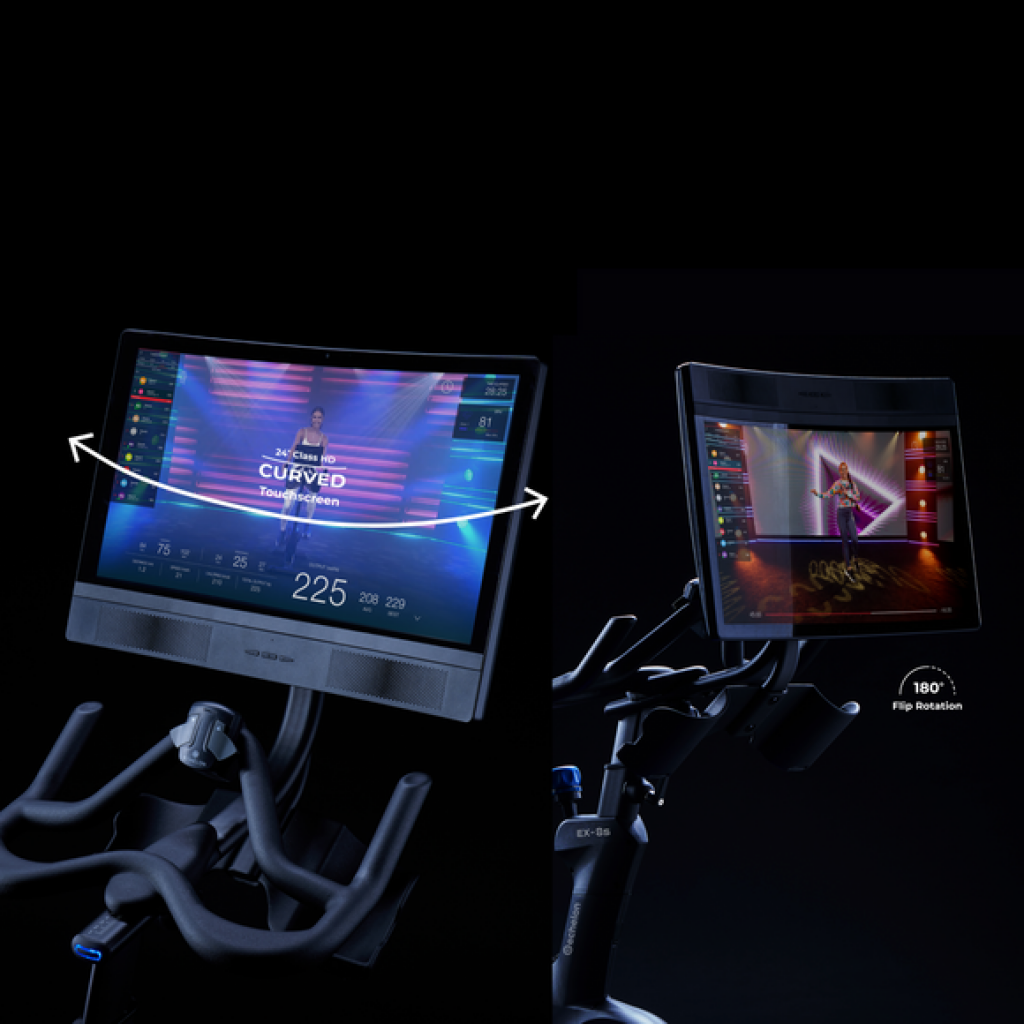 WHO SHOULD RIDE THE ECHELON EX-8s CONNECT BIKE?
For starters, without the Echelon Fit app, there's not much reason to get the bike. That said, riders who enjoy the energy of workout apps and interactive training would love this machine. Whether a beginner or advanced rider, folks willing to pay a little more will get all the fun they can handle with the Echelon EX-8s Connect Bike. Bluetooth-enabled the bike brings great processing speeds and a cool 24-inch curved HD touchscreen which allows them to get down on the floor or stay on the bike while earning the burn.
The Bottom Line
The Echelon EX-8s Connect Connect Bike is a top-notch bike with all the trimmings. Priced at $2,299.99 the bike is in a competitive market for sure, but we feel it's tops in its category.
Check Price
Credit: Source link